Today we are going to introduce some recovery software that is able to recover files which are gone and you restore them to its original names with some recovery tools.
Why are we introducing this article? Sometimes, we have loads of files on our PC and they are vital working documents. What couldn't be worse if you lose them. Recovering them is something nice but here we need the tool which can recover files to its original names which can be easily recognized by us for future use.
Recoving files is not a mystery with some advanced tools that computer companies developed for fixing the data loss. There are thousands of tools out there available on the market. Here we pick up some tool which can restore your files to its orignal names.
Recovery tools that can restore files to its original names
1. Easeus Data Recovery Wizard, which you can download at http://www.easeus.com/. This is an undelete tool and it works if you want to search lost files and recover them to the origianl file names.
Note: No raw file search module option when searching lost files. This can be found at "Option" on the program. Remember that you do not select the raw file search module, then it can restore your files with their enitial names.
The vendor states this clearly on its website http://www.easeus.com/datarecoverywizard/help/option.htm and the RAW option details is: "RAW" option is used for "Raw Recovery", when files are detected by their headers taken from sectors of the disk.
In some cases, Raw Recovery is the only method to recover needed   file(s).
Raw recovery cannot recover filenames, but content of the file can be recovered up to 100%.
In addition, in this new version, more exciting features have been added to RAW recovery tool. EASEUS the Data Recovery Wizard offers more selections on the types of files during RAW recovery. The main categories include Graphics, Documents, Archives, Multimedia, Email, Databases and Financials.  To make an exact choice, click the "+" before each category to spread the main category tree and choose the listed type.
In other words, if you do want to find files to its original names, do not click RAW option.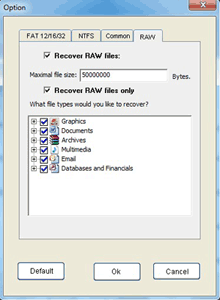 2. Munsoft Easy File Undelete
Easy File Undelete developed by Munsoft, the Russian developer, is also able to restore files to its orignal names. Easy File Undelete supports NTFS, FAT16 and FAT32 file systems and uses Raw Search technology to determine file types according to known data structures. This technology enables discovery of deleted files even if their location and size is not stored in the file system structures.
The RAW search technology is different from Easeus company. It is with localized files and folders names supported. You may download a copy at http://www.munsoft.com/EasyFileUndelete/
Notice from us: Always remeber not to touch the drive where you lost files to keep file from overwritten.
Some other recommended recovery software are:
iCare Data Recovery http://www.icare-recovery.com/
DiskInternal Uneraser http://www.diskinternals.com/
RecoverMyFiles http://www.recovermyfiles.com/